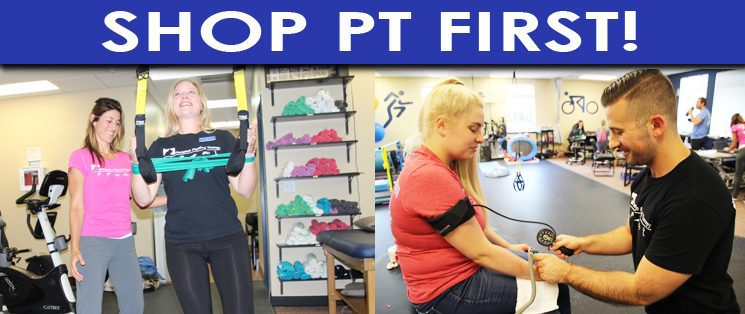 BY KATE SERODIO, DPT/OWNER
Unlike The Commonwealth Motors slogan "shop us last", Physical Therapists across the nation are trying to educate everyone on shopping PT first! The goal is to inform and educate the benefits of Physical Therapy (PT) for both your injuries as well as our injured healthcare system.
Here's a real life example of why you should shop PT first!
Last week I had a 35 year old patient come in reporting that she injured her back 6 weeks ago after bending down to pick up a sock on the floor. The pain was so terrible she could barely walk, so she went to the Emergency Room. The ER performed an x-ray, gave her muscle relaxers, pain meds (this is an entirely different discussion), and advised bed rest (worst thing you could do). The pain didn't resolve so she followed up with her doctor several days later but wasn't able to be seen for another week. Her condition had become worse and now she was having severe pain down her leg and couldn't work. She finally got in to see her Primary Care Provider (PCP) and was told she had sciatica. At this point, Jill felt that something was extremely wrong and requested an MRI. The PCP told her that instead of imaging at this time she would need to see a physiatrist. (a physi-what? A physiatrist is a medical doctor who specializes in physical medicine and rehab) Unfortunately, the physiatrist was booked out a few weeks but she would be put on a wait list. Jill was struggling with walking and the severe pain so having to wait 3 more weeks was unacceptable.
She again called her PCP and convinced her to schedule an MRI. She was also prescribed anxiety drugs to calm her. Her Primary did suggest Physical Therapy but Jill didn't want to do anything until she had an MRI and knew exactly what was wrong. She wondered how could a PT treat her if they didn't know exactly what the problem was? (Not true). Jill finally got her MRI which revealed a bulging disc at L4-L5. She was finally able to see the physiatrist who suggested she go to PT for 4-6 weeks. If she didn't feel relief from PT, they would then give her an injection (hmm, that's it? that's what he's recommending?)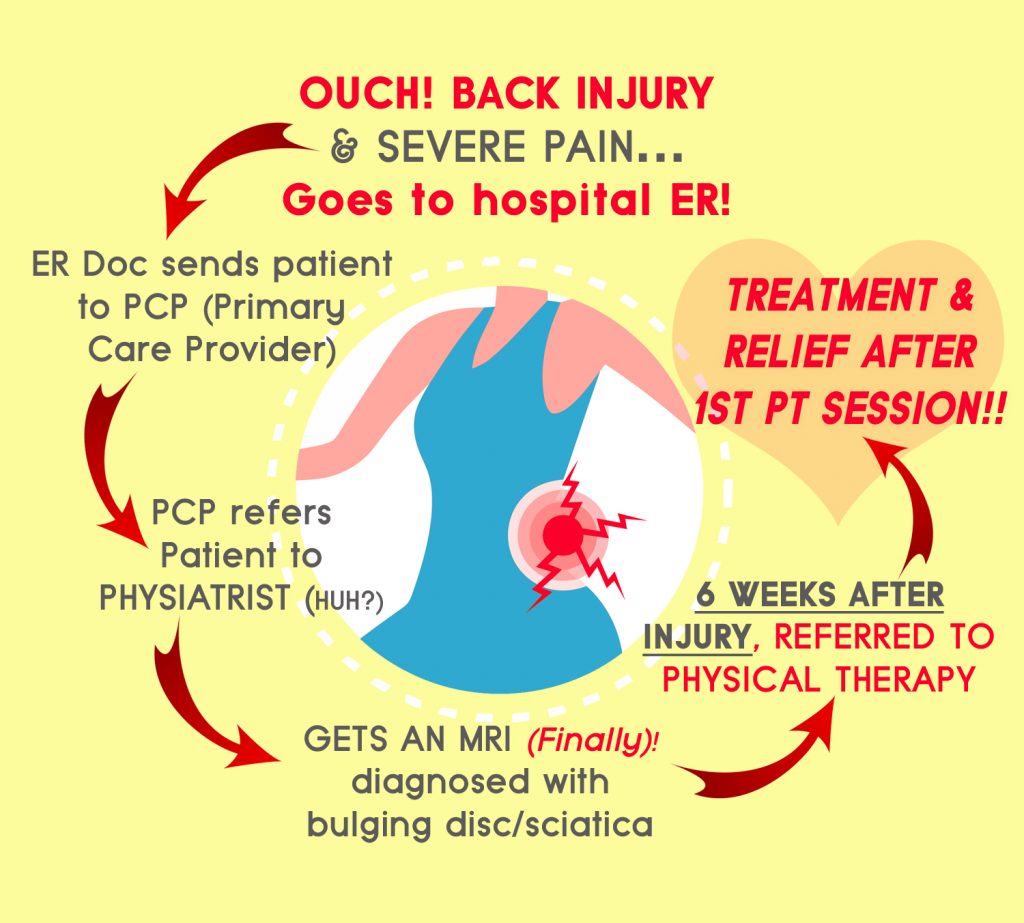 After 6 weeks of debilitating pain, Jill finally started Physical Therapy and reported a 90% improvement after her FIRST session! (despite having a bulging disc!) She continued PT for 4 weeks and received skilled manual treatment, taught appropriate stretches, modified her current gym routine, and progressed her core strength for future prevention. After this successful treatment, she returned to her prior level of function, Jill promised to never shop us last again! PT will forever be her first stop shop for any musculoskeletal condition.
So, what would you prefer to do? Have 6 weeks of pain and anxiety, lose your vacation/personal time from work, spend your $3,000 or greater deductible and contribute to the ongoing healthcare crisis? Or go to PT, have immediate relief, and learn how to prevent this from ever happening again? Take a look at the cost savings below for you and the insurance industry.

Jill (Chose PT Last)

Hopefully YOU (PT 1st!)

COSTS
$7,500 + lost time at work, delayed recovery by 6 weeks + stress/anxiety!

PT costs variable
Could be anywhere from 1-12 visits ($100-$1,200) Literature supports, earlier treatment results in faster healing
Jill's expenses were quite costly versus what they would be had she chosen Physical Therapy first…
PCP: $150 visit

Physiatrist $150 visit Average

PT Average $100/visit. 1-12 visits=$100-$1,200 + (later intervention results in longer treatment time)

MRI= $1,000- $3,000 depending on where you go (Check out mymedicalshopper.com for MRI savings in your area. It's a transparency website that allows you to see the cost of services and save money)

Possible future injections-delayed PT may not be as effective as early intervention and result in need for spinal injections $1,000- $3,000
Total cost: up to $7,500 + lost time at work + stress/anxiety
Did you know that NH is a direct access state? Many insurances don't require a referral, including Medicare patients and anyone with a PPO. You simply just call and line up an appointment. Hampton PT only has therapists with Doctorate degrees. We're all trained to evaluate and treat you and recognize a need to refer you out.
I truly hope you choose Hampton PT and remember, GetPT1st!